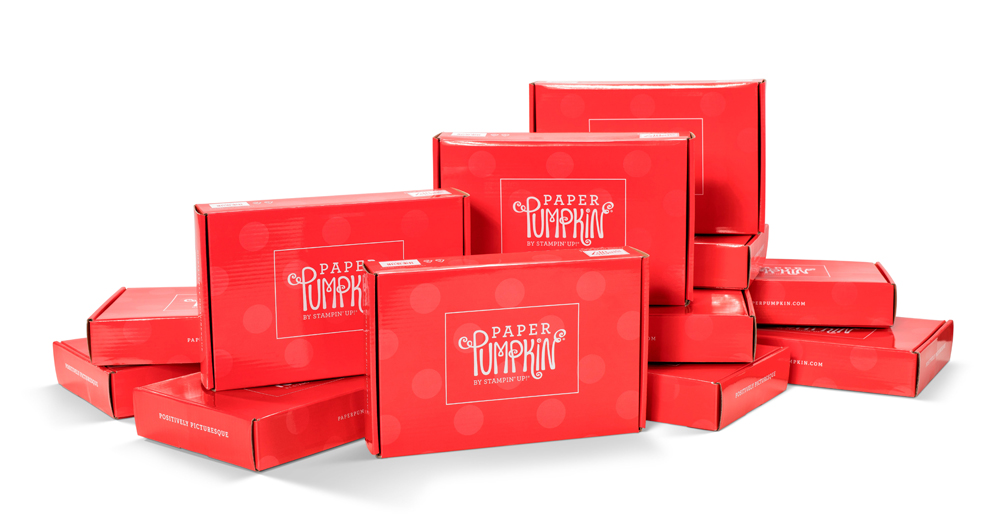 Paper Pumpkin is a fun and creative, fully designed paper crafting project kit that arrives at your door monthly in a delightful box. Filled with exclusive stamps, ink, and paper—everything is pre-cut or punched and ready to go so you can skip right to the fun of putting things together. Paper Pumpkin is for Everyone! No crafting skills or special tools are required. Men, women, teens and seniors can all enjoy creating great paper crafts.

Each kit is special and different - you will make a variety of great paper crafts from all occasion cards to gift and treat containers. Some kits make one very special home decor item, while other make twenty or more individual items to share. It is always a surprise you wait for with great anticipation. In the run of a full year you will have collected 12 unique and exclusive stamp sets for every occasion, and 12 different coloured "ink spots" - mini ink pads. You can continue to use these with your own paper supplies for ongoing creativity.


Just think of it as "Monthly Fun & Creativity in a Box"

Paper Pumpkin is a simple and inexpensive subscription service. You sign up for just $30+tax a month with free shipping right to your door. You can pause your subscription if you're going to be away or don't want to receive your kit a particular month, and you can unsubscribe from the service at any time. So what are you waiting for? Join the millions of people around the globe enjoying Paper Pumpkin crafts every month.


SIGN ME UP!



JUNE 2020 PAPER PUMPKIN - DON'T MISS IT!
---


Join one of my Exclusive
Monthly Paper Pumpkin Clubs:


I operate monthly Paper Pumpkin Clubs near Halifax in Upper Tantallon, Nova Scotia and in the Annapolis Valley, Centreville, Nova Scotia. As part of my monthly club meetings you bring your kit and I bring inspiration. For an optional fee of $10 I also bring you extra coordinating supplies and 6 alternate designs (cards and or 3D items) you can make using some of your kit contents.

Space in existing clubs is limited to 6 to people. Additional club meetings are created as needed. I am always looking to start additional clubs. If you'd like to join an existing club, or start a new one with your own circle of friends or family, just contact me with your details.






When you shop Stampin' Up! online
be sure to use this month's host code
ECAJPKEN
Order $60 in product and get
16 Project Tutorials FREE!


Open CANADA Wide
Only 16 Players - $45
Prize packages $45 to $100

REGISTER NOW





At-Home Crafting Event
All Supplies + NEW 2020 Stamp Set
6 Fun Projects - Saturday July 11th

REGISTER NOW


Upcoming Classes & Events
Paper Pumpkin Crafting Clubs
Paper Pumpkin is for Everyone! No Skills or tools required. Each month a fully designed project kit arrives in a delightful box filled with stamps, ink, and paper—everything cut and ready to go so you can skip right to the fun. Just think of it as creativity in a box.
Tell Me More
SIGN ME UP!
NEW Spring Projects
Look What You Can Make